Learning German with me
I help people learning German since 2013. By now, I've had students from all over the world. I work as a teacher for private language schools and institutes and I also train employees for international companies in inhouse classes. In case you are looking for indivual private lessons: feel free to contact me.
What is it like to learn German with me?
It is important to me that learners interact with others and are communicative. Students will want to ask me questions and they want my professional oppinion on words, phrases and pronouncation, but they do not want me talking all the time. When I get to know my students, I always want to learn their experiences, background and motivation, so that I can offer interesting and appropiate material.
In courses, we don't sit in the classroom all the time, but move around the city for projects. And since I listen to a lot of music with German lyrics myself, there are also song text-related exercises and music videos in my lessons. That doesn't mean that we don't work, I don't teach grammar or prepare for exams. In fact, at the advanced levels I do intensive writing training regularly. Rather, this means: I make sure that the motivation is right, that learning does not become an end in itself and that no one is over- or understretched.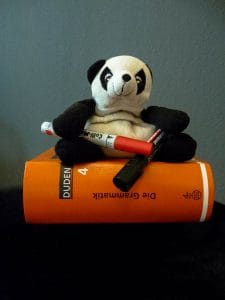 Estudiar alemán conmigo
Ayudo a la gente a aprender alemán desde 2013. A estas alturas, ya he tenido estudiantes de todo el mundo. Trabajo como profesor en escuelas e institutos de idiomas privados y también capacito a empleados de empresas internacionales en clases internas. En caso de que busques clases particulares individuales: no dudes en contactar conmigo.
¿Cómo es aprender alemán conmigo?
Es importante para mí que los estudiantes interactúen con otros y sean comunicativos. Los estudiantes querrán hacerme preguntas y quieren mi opinión profesional sobre palabras, frases y pronunciación, pero no quieren que hable todo el tiempo. Cuando llego a conocer a mis alumnos, siempre quiero aprender sus experiencias, antecedentes y motivación, para poder ofrecerles un material interesante y adecuado.
En los cursos no nos sentamos en el aula todo el tiempo, sino que nos desplazamos por la ciudad para proyectos. Y como yo mismo escucho mucha música con letras en alemán, también hay ejercicios relacionados con textos de canciones y videos musicales en mis clases. Eso no significa que no trabajemos, yo no enseño gramática ni preparo exámenes. De hecho, en los niveles avanzados hago cursos intensivos de escritura con regularidad. Más bien, esto significa: me aseguro de que la motivación sea correcta, de que el aprendizaje no se convierta en un fin en sí mismo y de que nadie esté sobrecargado o infraesfuerzado.